Welcome Northwest Arkansas Founders and Investors!
What is Startup Haven? Startup Haven is a community of Founders and Investors that support each other on their startup journey. We host both virtual and in-person events (see the calendar –>) as well as support programs and other benefits. Click here to read our origin story to learn more.
If you are interested in learning more about our membership levels and applying, please click here!
A welcome from our founder, Bob Crimmins:
Greetings NW Arkansas founders and investors! I'm looking forward to getting to know you.
When I accidentally founded Startup Haven in 2006, I wanted to create a place where serious venture-scale founders and investors could build real relationships. I was a founder myself at the time and I had learned early in my career that no one can help a venture-scale founder more than other venture-scale founders and investors. I had no idea that humble passion project would one day expand to connect more than 2,300 founders and inventors across the country.
I could not be more thrilled now to extend an invitation to NW Arkansas founders and investors to join us. It's clear that Northwest Arkansas doesn't need our help to build a thriving startup community; you've proven that. Our hope is only to provide a conduit to expand horizons and connect NW Arkansas with other likeminded founders and investors. I hope you'll join us.
An introduction from our NWA Chapter Director, Owen Fowler:
Networking can be difficult for anybody and isn't a natural skill for me. Startup Haven (the Seattle Chapter) was exactly the group I needed as a startup founder. I immediately took to the monthly Startup Poker nights which brilliantly removed the awkwardness often attendant at networking events by centering around a no-pressure activity, so that everyone could just have a good time and talk more naturally. Before poker starts at each event people optionally introduce themselves and make asks and offers. I always participated, and both benefited from it and was able to help others too.
In addition to in-person events, Startup Haven offers a plethora of online events. I was a heavy user of "Pitch Coaching", which was central to taking my investor pitch from not very good to sharp.
When my wife and I decided to move to NW Arkansas, I knew I would miss Startup Haven Seattle. On the long drive home from a Startup Poker night, it occurred to me that maybe I could take it with me. I asked Bob the next morning if we could launch a chapter where my new home would be. To my surprise and delight, he produced an enthusiastic yes! I am beyond excited to help bring Startup Haven to NW Arkansas in hopes that it may bring here what it has brought to me and thousands of others.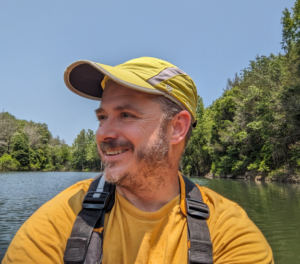 Owen Fowler
Owen Fowler is a serial entrepreneur with experience in IT, automation, logistics, and manufacturing. His previous company created software that managed a complex chain of supply in apparel. His current company Plentiful Stays aspires to usher in the 2nd half of the ecommerce revolution, automating repeat purchases using algorithms and data, with a beachhead market of vacation rental supply.